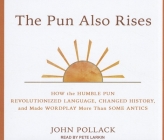 The Pun Also Rises: How the Humble Pun Revolutionized Language, Changed History, and Made Wordplay More Than Some Antics (Compact Disc)
List Price: $34.99
Our Price: $27.99
(Save: $7.00 20%)
Not in stock. Can usually be ordered within 1-5 days.
Description
---
A former world pun champion's funny, erudite, and provocative exploration of puns, the people who make them, and this derided wordplay's remarkable impact on history.
About the Author
---
John Pollack is a former presidential speechwriter and the winner of the 1995 O. Henry World Championship Pun-Off. Previously, he wrote for the Hartford Courant and spent three years in Spain as a freelance foreign correspondent writing for the Associated Press, the Los Angeles Times, USA Today, and the Miami Herald, among others. His previous books include Cork Boat and The World on a String: How to Become a Freelance Foreign Correspondent. He currently works as a speechwriter and consultant for ROI Communication, a consulting firm. John lives in New York City. Pete Larkin, an AudioFile Earphones Award winner, has wide voice-over and on-camera experience and has worked in virtually all media. He was the public address announcer for the New York Mets from 1988 to 1993. He has worked as a disc jockey in Baltimore, Washington, and New York, including as host of WNEW-FM's highly rated "Saturday Morning Sixties" program. An award-winning on-camera host, Pete has worked on many industrial films for many of the country's top companies, corporations, and governmental agencies and has done hundreds of commercials, promos, and narrations. His theater experience includes a variety of dramatic, comedic, and musical roles.
Praise for The Pun Also Rises: How the Humble Pun Revolutionized Language, Changed History, and Made Wordplay More Than Some Antics…
---
"Anyone with an interest in language is going to find this book fascinating." ---David Crystal, author of How Language Works