And Two Boys Booed (Hardcover)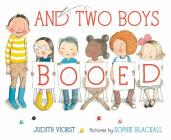 List Price: $16.99
Our Price: $15.29
(Save: $1.70 10%)
Description
---
On the day of the talent show, a boy is ready to sing his song, and he isn't one bit scared because he has practiced a billion times, plus he's wearing his lucky blue boots and his pants with all ten pockets. But as all of the other kids perform before him, he gets more and more nervous. How the boy overcomes his fear of performing in front of the class makes a charming and funny read-aloud, complete with ten novelty flaps to lift.
A Margaret Ferguson Book
About the Author
---
Judith Viorst was born and raised in New Jersey. She received a B.A. in history from Rutgers University, and in 1981, after six years of study, she graduated from the Washington Psychoanalytic Institute.
Mrs. Viorst is the author of eight collections of poems for adults: The Village Square; It's Hard to Be Hip Over Thirty and Other Tragedies of Married Life; People and Other Aggravations; How Did I Get to Be Forty  and Other Atrocities; When Did I Stop Being Twenty and Other Injustices;  Forever Fifty and Other Negotiations;  Suddenly Sixty and Other Shocks of Later Life; and I'm Too Young to Be Seventy and Other Delusions. She has also written You're Officially a Grown-up: The Graduate's Guide to Freedom, Responsibility, Happiness and Personal Hygiene; a novel, Murdering Mr. Monti; and six nonfiction books: Yes, Married; Love & Guilt & The Meaning of Life, Etc.; Necessary Losses, which was on The New York Times  bestseller list for almost two years; its companion volume, Imperfect Control; Grown-up Marriage; and Alexander and the Wonderful, Marvelous, Excellent, Terrific Ninety Days: An Almost Completely Honest Account of What Happened to Our Family When Our Youngest Son, His Wife, Their Baby, Their Toddler, and Their Five-Year-Old Came to Live with Us for Three Months. In addition, she wrote a column in Redbook for over twenty-five years.
Mrs. Viorst is the author of eighteen books for children: Sunday Morning; I'll Fix Anthony; Try It Again, Sam; Alexander and the Terrible, Horrible, No Good, Very Bad Day;  The Tenth Good Thing About Barney; My Mama Says There Aren't Any Zombies, Ghosts, Vampires, Creatures, Demons, Monsters, Fiends, Goblins, or Things; Rosie and Michael; Alexander, Who Used to Be Rich Last Sunday;  If I Were In Charge of the World and Other Worries; The Good-bye Book; Earrings!; The Alphabet from Z to A; Sad Underwear and Other Complications; Alexander, Who's Not (Do You Hear Me? I Mean It!) Going to Move; Absolutely, Positively Alexander, a collection of the three Alexander stories; Super-Completely and Totally the Messiest; Just in Case; and Nobody Here But Me.
Many of her books, for adults as well as for children, have been published abroad. Several of her children's books have been made into short films.
Mrs. Viorst lectures widely on a variety of topics, ranging from loss and growth to children's literature and the subject of control. Her poetry has been read in performance by Anne Bancroft, Alfred Lunt and Lynn Fontanne, and Anne Jackson and Eli Wallach. Her musical, Love & Shrimp, starring Eileen Barnett, Bonnie Franklin, and Mariette Hartley, has been performed in Los Angeles, New York, and other cities. A musical version of Alexander and the Terrible, Horrible, No Good, Very Bad Day, with the play and lyrics written by Mrs. Viorst and music by Shelly Markham, was commissioned by and performed at the Kennedy Center and now appears at theaters all over the country. A second children's musical, Alexander, Who's Not, Not, Not, Not, Not, Not Going to Move, also with play and lyrics by Mrs. Viorst and music by Shelly Markham, was commissioned by and performed at the Kennedy Center and is currently touring the country.
Mrs. Viorst resides in Washington, D.C., with her husband, Milton, who is the author of several critically acclaimed political books. They have three sons, Anthony, Nicholas, and Alexander, and seven grandchildren.
SOPHIE BLACKALL is the illustrator of
Meet Wild Boars
, a
Bulletin of the Center for Children's Books
Blue Ribbon selection. She lives in Brooklyn, New York.
Praise For…
---
"A little boy tries to convince himself that he is ready to sing his song in the class talent show . . . Viorst communicates the turmoil and the resolution in innovative ways . . . The result is an abstracted, expressive exploration of apprehension, made accessible with careful language and thoughtful imagery." —Booklist
"There's so much going on in this kid-friendly book - and all of it great." —The Horn Book
"A boy waits with increasing trepidation for his turn in the class talent show in this cumulative story . . . Viorst ably returns to the familiar trope of vanquishing childhood fears, nicely abetted by the talented Blackall." —Kirkus Reviews
"* It was an inspiration to pair Viorst and Blackall in this funny, ingenious, and true-to-life story about stage fright." —Publisher's Weekly STARRED REVIEW
"This is a good school story with clever art. Clearly both author and illustrator had fun creating it, and students will have no trouble enjoying it." —School Library Journal