The Princess and the Pony (Hardcover)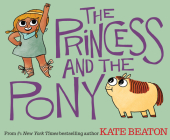 List Price: $17.99
Our Price: $16.19
(Save: $1.80 10%)
Not in stock. Usually arrives in 2-7 business days
Staff Reviews
---
This is one tough princess. She dreams of having a big horse so she can become a warrior but instead she gets a little, round, farting pony who brings out all the warriors' cute and cuddly sides. Funny, diverse, and good for all genders. My nephew loves this book!
— From
Alison's picks
Description
---
Introducing Kate Beaton, a major new picture book talent, and author/illustrator of #1 New York Times bestseller Hark! A Vagrant!Princess Pinecone knows exactly what she wants for her birthday this year. A BIG horse. A STRONG horse. A horse fit for a WARRIOR PRINCESS! But when the day arrives, she doesn't quite get the horse of her dreams...From the artist behind the comic phenomenon Hark! A Vagrant, The Princess and the Pony a laugh-out-loud story of brave warriors, big surprises, and falling in love with one unforgettable little pony.
About the Author
---
Kate Beaton is the author of The Princess and the Pony, which received four starred reviews and was selected as an ALA Notable Children's Book, and Hark! A Vagrant and Step Aside, Pops!, both #1 New York Times bestselling comics collections. Kate is the recipient of multiple Harvey awards, and her cartoons have been featured in the New Yorker. Kate lives in Canada, and you can find her online at www.beatontown.com, or on Twitter and Tumblr as @beatonna.
Praise For…
---
Praise for The Princess and the Pony:An ALA Notable Children's BookCBC Children's Choice Book Award Winner (Illustrator of the Year)Indies Choice and E.B. White Read-Aloud Book Award Finalist"I don't know how you make such a pretty book that has heart and wisdom and also a farting pony, but Kate Beaton does, and we are lucky that she does." -- Jon Klassen, Caldecott-winning creator of This Is Not My Hat and I Want My Hat Back"It is the perfect, perfect book about girls, gender roles, and adorable ponies." -- Cory Doctorow, boingboing.net*"[H]ip, modern, and absolutely refreshing... [T]his warrior princess breaks the mold -- and Beaton is in a class of her own." -- Kirkus Reviews, starred review*"It's a smart, brisk story that tosses aside conventional ideas of what princesses (and ponies) are 'supposed' to be." -- Publishers Weekly, starred review*"A highly recommended, charmingly illustrated tale of teamwork and tenderness." -- School Library Journal, starred review*"The perfect combination of heartwarming and hilarious." -- Booklist, starred reviewPraise for Hark! A Vagrant:Included on more than twenty Year's Best lists, including Time, E!, Publishers Weekly, and Amazon.com.* "That rarest combination of literate irony and devastatingly funny humor." -- Publishers Weekly, starred review"Not only fun, but also a good lead-in for teens who may want to explore authors and events they first discover in the riffs here." -- School Library JournalOther Awards for Kate Beaton:2009 Doug Wright Award for Best Emerging Talent2011 Harvey Award for Best Online Comics Work2012 Harvey Award for Best Online Comics Work2012 Harvey Award Special Award for Humor in Comics2012 Harvey Award for Best Cartoonist

Praise for The Princess and the Pony:An ALA Notable Children's BookCBC Children's Choice Book Award Winner (Illustrator of the Year)Indies Choice and E.B. White Read-Aloud Book Award Finalist"I don't know how you make such a pretty book that has heart and wisdom and also a farting pony, but Kate Beaton does, and we are lucky that she does." -- Jon Klassen, Caldecott-winning creator of This Is Not My Hat and I Want My Hat Back"It is the perfect, perfect book about girls, gender roles, and adorable ponies." -- Cory Doctorow, boingboing.net*"[H]ip, modern, and absolutely refreshing... [T]his warrior princess breaks the mold -- and Beaton is in a class of her own." -- Kirkus Reviews, starred review*"It's a smart, brisk story that tosses aside conventional ideas of what princesses (and ponies) are 'supposed' to be." -- Publishers Weekly, starred review*"A highly recommended, charmingly illustrated tale of teamwork and tenderness." -- School Library Journal, starred review*"The perfect combination of heartwarming and hilarious." -- Booklist, starred reviewPraise for Hark! A Vagrant:Included on more than twenty Year's Best lists, including Time, E!, Publishers Weekly, and Amazon.com.* "That rarest combination of literate irony and devastatingly funny humor." -- Publishers Weekly, starred review"Not only fun, but also a good lead-in for teens who may want to explore authors and events they first discover in the riffs here." -- School Library JournalOther Awards for Kate Beaton:2009 Doug Wright Award for Best Emerging Talent2011 Harvey Award for Best Online Comics Work2012 Harvey Award for Best Online Comics Work2012 Harvey Award Special Award for Humor in Comics2012 Harvey Award for Best Cartoonist