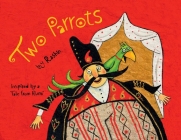 $8.95

Backordered at least 2 weeks or possibly unavailable.
Description
---
Rashin, an award-winning artist from Iran, brings Rumi's classic to life. Now in paperback!

A plucky parrot living in the home of a wealthy merchant appears to have everything: the love of his owner, the best food, and a golden cage. But despite all this, the parrot is sad. The merchant will do anything to make his parrot happy! But will he be willing to set his beloved pet free?

Rashin's colorful and lively illustrations bring a fresh and distinctive perspective to this thoughtful classic about what is most important in life.
About the Author
---
Rashin Kheiriyeh was born in Iran and now lives in Washington, DC. She is one of the most outstanding young Iranian illustrators working today. She has been awarded the Golden Apple of Bratislava and was selected for the 2013 Bologna Book Fair Illustrators Exhibit and a 2014 IBBY Honor. Among her many books are Two Parrots, There Was an Old Lady Who Swallowed a Fly, and The Seven Voyages of Sinbad the Sailor—her first books published in the United States.

Rumi—Jalal ad-Din Muhammad Balkhi, also known as Jalal ad-Din Muhammad Rumi or simply as Rumi—(September 30, 1207–December 17, 1273) was a thirteenth-century Persian poet, theologian, and Sufi mystic. His poetry is revered around the world. He is currently considered to be one of the most popular poets in America. His words of wisdom and spirituality are just as pertinent now as they were in his time.