Really Truly Bingo (Hardcover)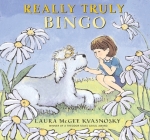 $15.99

Backordered at least 2 weeks or possibly unavailable.
Description
---
From a Theodor Seuss Geisel Award winner! Meet Bea and her imaginary canine friend, who has a few creative ideas for making mischief.

Wondering what to do next with her day, Bea heads out into the garden, where the sprinkler waters the lawn, the daisies sway in the warm breeze, and Bingo, a talking dog, asks her to play. "Let's do something we're not supposed to do!" he cheerfully suggests. But will Bingo be as good at getting Bea out of trouble as he is at getting her INTO it? From the award-winning creator of the Zelda and Ivy series comes a picture book sure to captivate impish readers of all ages.
About the Author
---
Laura McGee Kvasnosky received the Theodor Seuss Geisel Beginning Reader Award for Zelda and Ivy: The Runaways, the fourth in a series of books about the endearing fox sisters. She is also the creator of Frank and Izzy Set Sail. She lives in Washington state.