Marjolein Bastin Nature's Inspiration 2021 Deluxe Wall Calendar (Calendar)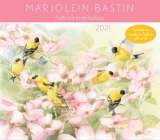 List Price: $18.99
Our Price: $17.09
(Save: $1.90 10%)
Backordered at least 2 weeks or possibly unavailable.
Description
---
Flashy red cardinals against the white snow, an indigo bunting in a sea of yellow prairie flowers, dewy cobwebs and fairy-like toadstools on a crisp fall morning—you'll find these beautiful nature images and many more in the Marjolein Bastin: Nature's Inspiration 2021 Wall Calendar.
Each monthly spread of this deluxe calendar features a stunning full-color image, full of flora and fauna that the artist has encountered in her travels and in her own backyard. 
Other features included:
Pre-planning spread for September through December 2020 
Generous grids provide space to add appointments and reminders
Calendar comes in a matching full-color envelope
Fans will love the ready-to-frame 8 ½ x 11 gift print
About the Author
---
Marjolein Bastin's passion for the natural world is of a universal quality that appeals to people the world over. You can find Marjolein's artwork on greeting cards, calendars, dinnerware, bedding, gifts, and many other products. But for Marjolein, only one thing remains important: spending every day behind her desk painting the natural world around her.

She also writes and illustrates children's books featuring the endearing Vera the Mouse character, which she created. Through her art and words, Marjolein offers people a simple reminder to pause and enjoy nature and allow it to be a source of serenity, energy, and healing. Finding inspiration in a bird lighting on a branch or a leaf drying in the autumn sun, Marjolein takes long walks each afternoon to seek new ideas for her artwork and her writings. Marjolein and her husband, Gaston, divide their time between country homes in Holland, Switzerland, and in Missouri, as well a tropical retreat in the Cayman Islands. Each setting provides a unique glimpse of what nature has to offer throughout the world. The couple has a son, Mischa, a daughter, Sanna, and two grandchildren.