Yukon: A Wilder Place (Hardcover)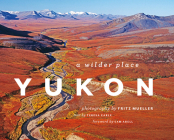 List Price: $45.00
Our Price: $40.50
(Save: $4.50 10%)
Backordered at least 2 weeks or possibly unavailable.
Description
---
In this remarkable collection of photographs, Fritz Mueller captures fleeting, compelling moments in a timeless Yukon landscape, one of the world's wildest and most overlooked wilderness areas. The view through Mueller's lens is influenced by his scientific roots and inspired by his visual artist's aesthetic. Mueller takes readers on the annual migration of the Porcupine caribou herd, and he captures intimate portraits of icy grizzly bears gorging on salmon at the Arctic Circle. Mueller crosses sprawling glaciers and navigate Yukon's clear mountain rivers. His appreciation for nature's minutiae voles, berries, frogs is a refreshing perspective on a landscape writ large. Complemented by evocative text by Teresa Earle, this book is a celebration of all things wild, from vivid northern lights to enchanting landscapes to elusive wildlife. As wilderness vanishes and intact ecosystems deteriorate, the Yukon remains one of the last wild hot spots, a conservation treasure of international significance.
About the Author
---
Fritz Mueller grew up on a rural homestead in British Columbia's Coast Mountains. Biology was a natural career path for a kid raised in wild country filled with mountain goats and grizzlies. He completed two degrees at University of British Columbia, doing his master's fieldwork near Kluane National Park in the Yukon. For a decade Fritz worked in northern Canada as a zoologist and environmental assessment scientist. In 2003 he quit his government job to shoot full-time. He does a mix of editorial assignment, stock and commercial photography, but his main focus continues to be telling compelling stories about science, conservation and the interface between people and nature. An award-winning photographer, he's published in National Wildlife, Nature's Best, Ranger Rick, Natural History, Canadian Geographic, Up Here, Defenders of Wildlife, explore, The New Yorker, the Globe and Mail, The Guardian and more. Teresa Earle grew up exploring the islands and waterways of B.C.'s Georgia Strait near her hometown of Vancouver. She completed a BA at University of British Columbia, worked for the family publishing business, and completed the Writing and Publishing Program at Simon Fraser University. A spontaneous year of dogmushing turned into a decade of adventure in Minnesota, Northwest Territories, Yukon and points overseas. Today Teresa is a writer, consultant, entrepreneur and manager of a growing photography business. She's written for Canadian Geographic, explore and Up Here and is a former science and nature newspaper columnist. Sam Abell has worked with the National Geographic Society since 1970, photographing numerous articles on various cultural and wilderness subjects. He has also lectured on photography and exhibited his images internationally. His work has also been featured in many books, including Stay This Moment: The Photographs of Sam Abell, Contemplative Gardens, Australia: Journey Through a Timeless Land, Lewis & Clark: Voyage of Discovery, Sam Abell: The Photographic Life, Four Stories, and The Life of a Photograph. Abell lives in Albemarle County, Virginia, with his wife, Denise.
Praise For…
---
"Greystone Books has produced another equally handsome coffee-table book: Yukon: A Wilder Place, which showcases the colour photographs of Fritz Mueller, with an accompanying text by freelance writer Teresa Earle...Mueller is a biologist, and his photographs are informed by his knowledge -- and awe -- of nature. There are majestic panoramas of mountains and rivers, delicate close-ups of butterflies and flowers, and dramatic scenes of caribou herds in migration, as well as grizzly bears in pursuit of prey."Montreal Gazette

"A celebration of Yukon -- one of the world's last wild places -- this remarkable collection of photographs captures fleeting, compelling moments in a timeless landscape. From a bear eating his breakfast, to a rare orchid photographed in a top­secret location, to an icefield bathed in the pink glow of desert dust carried from halfway around the globe, Yukon is an exquisite portrayal of Canadian landscape."Vancouver Sun