Wrigley Field Year by Year: A Century at the Friendly Confines (Hardcover)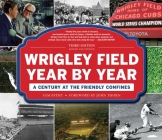 $35.00

Backordered. Will not ship for 2 weeks or longer.
Description
---
Every Chicago Cubs fan adores Wrigley Field. So, every Cubbies fan should own this full-color celebration of "The most wonderful place on earth." (Joe Mock's Ballpark Guide)
More than just a lavishly illustrated and highly readable book,
Wrigley Field Year by Year
, originally published in 2014 and now in its third edition, updated through the 2018 season, is the result of a quarter century of meticulous research.
Written by a baseball historian and recognized authority on the "Friendly Confines," this is the first book to detail each year of the storied park's existence. The book covers not only the Chicago Cubs and the Chicago Federal League baseball teams in detail, it touches on the Chicago Bears football team, basketball, hockey, high school sports, track and field, and political rallies. It references activities and changes throughout the park and in its neighborhood on Chicago's North Side. In addition to pertinent Cubs statistics, the author's year-by-year coverage includes:
A "game of the year"
A description of unusual and interesting happenings in the ballpark
A quote from the year that best captures its essence
Supplementing the year-by-year approach are nine chapters that divide Wrigley Field's rich history into nine "innings" along with informative appendixes that will delight every Cubs fan, from the casual to the obsessed. The book's easy-to-use format and wealth of information make it a resource that readers will turn to again and again.
"This updated edition celebrates Wrigley Field's 100th anniversary. It weaves through the financial, political, and social battles to renovate the ballpark. Readers will get a glimpse of the fruits of renovation; Wrigley Field will never be the same. The Cubs went from being a 101-loss team in 2012 to a National League Division series winner just three years later. It's an exciting time to be a fan of Wrigley Field!"
About the Author
---
Sam Pathy is a public librarian and member of the Society for American Baseball Research. He has contributed to the Baseball Research Journal and has spent the past twenty-five years researching the history of Wrigley Field.

John Thorn is the official historian of Major League Baseball. Apart from his creation, with Pete Palmer, of Total Baseball, he is often visible on ESPN, MLBTV, the History Channel, and other television outlets as a sports authority and commentator. He was also a major on-screen presence in and chief consultant to Ken Burns's 18 ½-hour PBS film Baseball. Thorn co-wrote The Hidden Game of Baseball and has written several other books on baseball, including Treasures of the Baseball Hall of Fame, The Game for All America, and Baseball in the Garden of Eden: A Secret History of the Early Game.
Praise For…
---
"The facts Pathy unearths are a delight. . . . It's the type of book one can pick up, turn to a page, and learn something new each time."— Tampa Tribune

"There has never been a book that chronicled the entire history of a baseball park by the year. That is, not until now. . . Every Cubs fan should savor it: 25 years worth of research, 100 years worth of history, a lifetime worth of memories. Wrigley Field Year by Year will help fans to relive those moments and perhaps learn about some new ones along the way."— Bleacher Report

"Chicago songwriter Steve Goodman once sang that Wrigley Field was the Cubs' 'ivy-covered burial ground.' But as Sam Pathy shows us there has been a lot of living in the friendly confines over the past century, too. Engagingly written, cleverly organized, and containing fascinating bits of information that even the most hardened Cubs fan may not know, Wrigley Field Year by Year is a nostalgic tribute to one of America's best-loved public buildings. And oh those pictures! No Chicago coffee table should be without it."
–Ron Rapoport, former sports columnist, Chicago Sun-Times

"I could tell you about Wrigley Field's modest beginnings, its architectural niceties and oddities, its hosted feats, its improbable survival as a relic of a team—the Chicago Whales—and a major league that vanished after the 1915 season. But the author, Sam Pathy, does a splendid job of that, aided by wonderful photographs. . . . Happy Birthday, Wrigley Field! This book does you proud." –From the Foreword by John Thorn

"Pathy puts a little of everything into his breakdown of the last 100 years at 1060 W. Addison. . . . [He] gives equal space to the Cubs and Bears in the years they shared the park, and he doesn't overlook or whitewash the scandals." —Chicago Sun-Times

"Sam Pathy provides a comprehensive chronicle of the wild and wacky in addition to the hardcore hardball history." — Yahoo! Sports "The PostGame"

"The coffee table sized book by Sam Pathy with an appealing intro by the sagacious Official Historian of MLB, John Thorn, is a winner in every way. Priced right, a labor of love and accuracy by the ... author who spent the past quarter century researching Wrigley's history, this handsomely designed effort belongs on your sports bookshelf." —Dr. Harvey Frommer, SportsBookShelf

"The facts Pathy unearths are a delight. . . . It's the type of book one can pick up, turn to a page, and learn something new each time."— Tampa Tribune

"There has never been a book that chronicled the entire history of a baseball park by the year. That is, not until now. . . Every Cubs fan should savor it: 25 years worth of research, 100 years worth of history, a lifetime worth of memories. Wrigley Field Year by Year will help fans to relive those moments and perhaps learn about some new ones along the way."— Bleacher Report

"Chicago songwriter Steve Goodman once sang that Wrigley Field was the Cubs' 'ivy-covered burial ground.' But as Sam Pathy shows us there has been a lot of living in the friendly confines over the past century, too. Engagingly written, cleverly organized, and containing fascinating bits of information that even the most hardened Cubs fan may not know, Wrigley Field Year by Year is a nostalgic tribute to one of America's best-loved public buildings. And oh those pictures! No Chicago coffee table should be without it."
–Ron Rapoport, former sports columnist, Chicago Sun-Times

"I could tell you about Wrigley Field's modest beginnings, its architectural niceties and oddities, its hosted feats, its improbable survival as a relic of a team—the Chicago Whales—and a major league that vanished after the 1915 season. But the author, Sam Pathy, does a splendid job of that, aided by wonderful photographs. . . . Happy Birthday, Wrigley Field! This book does you proud." –From the Foreword by John Thorn

"Pathy puts a little of everything into his breakdown of the last 100 years at 1060 W. Addison. . . . [He] gives equal space to the Cubs and Bears in the years they shared the park, and he doesn't overlook or whitewash the scandals." —Chicago Sun-Times

"Sam Pathy provides a comprehensive chronicle of the wild and wacky in addition to the hardcore hardball history." — Yahoo! Sports "The PostGame"

"The coffee table sized book by Sam Pathy with an appealing intro by the sagacious Official Historian of MLB, John Thorn, is a winner in every way. Priced right, a labor of love and accuracy by the ... author who spent the past quarter century researching Wrigley's history, this handsomely designed effort belongs on your sports bookshelf." —Dr. Harvey Frommer, SportsBookShelf