The Problem with Pierre (Hardcover)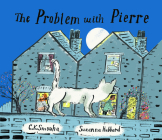 List Price: $16.95
Our Price: $15.26
(Save: $1.70 10%)
Not in stock. Usually arrives in 2-7 business days
Description
---
Praise for The Problem with Pierre
''Engaging, charming, and tender''. -- Kirkus Starred Review
''What a heart-warming story of two loving and giving friends This would make a nice readaloud for K-3 grades about inclusion, friendship and love''. -- Youth Services Book Reviews
''Young cat enthusiasts receive a warm lesson on friendship and compromise which is engagingly different''. -- Midwest Book Review
''A stylish picturebook with themes of compromise and friendship''. -- Books For Keeps
''A tale of friendship and cooperation illustrated in a lovely free-flowing style, full of colour''. -- Love Reading for Kids *Book of the Month*
The differences between Bertram and his neighbor Alan were never a problem until a fussy cat entered the equation
Alan and Betram are next-door neighbors. They are also best friends. They are also very, very different to one another. Bertram is extremely neat, and Alan is wildly messy. When Bertram gets a cat, called Pierre, he is dismayed to find that Pierre prefers it at Alan's house.
Alan tries to help his friend out - giving him his old sheepskin coat, his chipped bowl and finally, his beat up old sofa. At last, Pierre and Bertram are happy, but Alan is not - he has no company and no sofa. Fortunately, Bertram comes up with a brilliant solution to the problem...
The Problem With Pierre plays with the format of the book, returning to split spreads in which Bertram's neat-as-a-pin living room is on the left and Alan's homely chaos is on the right. When, at the end, Bertram knocks through the wall between the two houses, and puts the sofa in the middle, there is a coming together of content and format that is sure to delight readers young and old.
About the Author
---
C K Smouha is a children's author whose previous books include Born Bad, Sock Story and Iced Out (Cicada).