The Gift Inside the Box (Hardcover)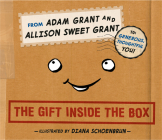 List Price: $18.99
Our Price: $17.09
(Save: $1.90 10%)
In Stock (but it is always wise to call ahead to confirm!)
Description
---
Adam Grant, the bestselling author of Give and Take, teams with his wife, Allison, to share the lighthearted tale of a gift in search of a giver--a classic in the making and the perfect conversation starter about thoughtfulness.

This delightful book--one of Amazon's 2019 Holiday Gift Picks and Most Anticipated Books--is designed to start conversations with kids about generosity. In the tradition of Goodnight Gorilla, the words are intentionally spare. The book is meant to be read interactively, with adults posing questions so kids can guess what's happening (and why). Praised by both parents and teachers for sparking imagination and eliciting discussion, the story can be interpreted differently in every family, by every child, and reinterpreted many times over.

Give the gift of this clever, earnest book about generosity--a new and nourishing fable for every child's library (and one that includes a delightfully innovative cover approach that requires the reader to unfasten the Velcroed cover for a fun unboxing effect!). It's a gift that keeps on giving.

"Truly phenomenal . . . Kristen [Bell]'s favorite book we've read to the kids in a year." --Dax Shepard of the podcast "Armchair Expert"
About the Author
---
As an organizational psychologist at Wharton, Adam Grant has studied generosity for a decade and a half. Ever since he published his bestselling book Give and Take and wrote his viral New York Times op-ed on raising a moral child, parents have been asking him for a children's book on the topic. But where to begin? Enter: Allison. As a psychiatric nurse practitioner, writer, and mom to their three children, Allison Sweet Grant knew just where to begin with a funny, engaging picture book that would delight their own kids.

Diana Schoenbrun is an illustrator, author, designer, and puppet builder. (She has been a Miss Piggy specialist for two Muppet movies.) She received her BFA in Illustration from the Rhode Island School of Design and a MFA in Illustration from the Fashion Institute of Technology.