Event date:
Wednesday, October 18, 2017 -

7:00pm

to

9:00pm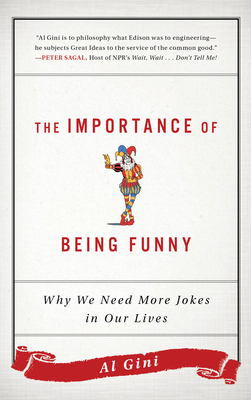 E. B. White said, "Analyzing humor is like dissecting a frog. Few people are interested and the frog dies of it." But White hadn't seen Al Gini's hilarious, incisive, and informative take on jokes, joke-telling, and the jokers who tell jokes.
For Gini, humor is more than just foolish fun: it serves as a safety valve for dealing with reality that gives us the courage to endure that which we cannot understand or avoid. Not everyone tells jokes. Not everyone gets a joke, even a good one. But, Gini argues, joke-telling can act as both a sword and a shield to defend us from reality. This book is for anyone who enjoys a good laugh, but also wants to know why.
Al Gini is a Professor of Business Ethics at the Quinlan School of Business at Loyola University Chicago. He is the co-founder and long-time Associate Editor of Business Ethics Quarterly, the journal of the Society for Business Ethics. For over twenty-seven years he was the Resident Philosopher on WBEZ, and can currently be heard on WGN Radio. His books include: My Job My Self: Work and the Creation of the Modern Individual (Routledge, 2000); The Importance of Being Lazy: In Praise of Play, Leisure and Vacations (Routledge, 2003); Why It's Hard to Be Good (Routledge, 2003); Seeking the Truth of Things (ACTA, 2010); The Ethics of Business with Alexei Marcoux (Rowman Littlefield, 2012); and 10 Virtues of Outstanding Leaders with Ronald M. Green (Wiley-Blackwell, 2013).
Event address:
Oak Park Public Library
834 Lake Street