Event date:
Sunday, April 9, 2017 - 2:00pm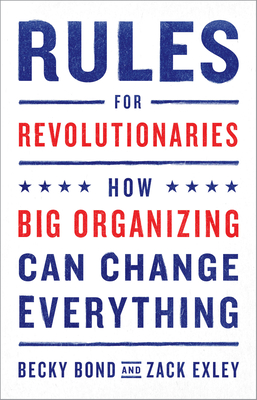 Oak Park Call To Action is a growing and diverse political action network of concerned neighbors in Oak Park. We are organizing to defend freedoms, fight for social justice, and build a system that works for all. We're excited to help present Zack Exley, co-author of Rules For Revolutionaries and senior advisor to Bernie Sanders, who literally co-wrote the book on our organizing model.
Rules for Revolutionaries is a bold challenge to the political establishment and the "rules" that govern campaign strategy.
It tells the story of a breakthrough experiment conducted on the fringes of the Bernie Sanders presidential campaign: A technology-driven team empowered volunteers to build and manage the infrastructure to make seventy-five million calls, launch eight million text messages, and hold more than one-hundred thousand public meetings--in an effort to put Bernie Sanders's insurgent campaign over the top.
This book identifies twenty-two rules of "Big Organizing" that can be used to drive social change movements of any kind. And they tell the inside story of one of the most amazing grassroots political campaigns ever run.
Zack Exley served as a senior advisor on the Bernie Sanders presidential campaign and was an architect of the campaign's national, volunteer-driven grassroots campaign. Zack was a union organizer before becoming MoveOn.org's first organizing director in its campaign to prevent the war in Iraq in 2003. As an early advisor to the Howard Dean campaign, he helped transfer MoveOn.org's early fundraising and organizing discoveries into presidential politics, and he then served as John Kerry's director of online fundraising and communications in the general election where his team raised more than $100 million online for the nominee. Subsequently, Zack worked as a consultant to global NGOs, campaigns and companies, and served as Wikipedia's chief community officer and chief revenue officer. He lives in the Ozarks with his wife, Elizabeth, and daughter, Esther.
This event is free and open to the public.
Event address:
The Wire
6815 W Roosevelt Rd